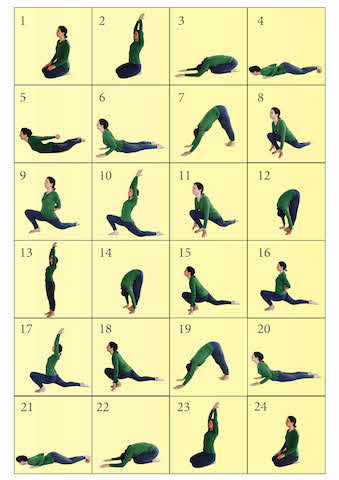 Download PDF
here
.
An invigorating sequence to re-generate and detoxify the entire body system. Practiced correctly, and with discipline, it leads to perfection of our bodies potential. On a deeper level it revitalises the energy through the eight main chakras necessary for spiritual development.
The sequence originally consists of twenty postures, which have helped millions of people to regain flexibility and improved spinal posture. It also greatly assists in the reduction of muscular tension and fatigue, and aids the circulation and health of all organs, thus assisting in recovery from illness and injury.
When we practice Khatu Pranam, it reveals an inordinate amount of energy that is available from within. We often exist with the premise that everything we gain is from outside, but rather, it's through Yoga, we begin to revel with the realisation, that we really do have everything within. In essence, yoga in daily life is a kind of self-confidence workout, a daily reminder as it were, of our own inner potential.
This sequence can be practiced any time throughout the day, and just four rounds will improve your overall health and wellbeing, after three days you'll already notice a significant difference. You'll feel happier, lighter and will have more energy. Sleep will improve and so will digestion, you'll feel more alert, calm and clear minded. Helping you at work, and in your personal life.
______________________________
Origins:
The significance of the name, Khatu, comes from the holy mountain where Bhagwan Deep Mahaprabhuji lived. It's in his presence that countless miracles were experienced and recorded in the holy book Lila Amrit. His story has inspired countless seekers. And when we can practice, with reverence for his divine life, we are open to receive divine light and blessing.
Yoga in Daily Life belongs to the lineage of Shree Alakhpuriji Siddha Peeth. With it's source in the Himalayas. Alakhpuriji means the original, the source, he is amongst the first to give this yogic science further and he still exists today in the form of light, blessing true spiritual masters. It's from the place Alakhpuriji resides that the river Ganga can be traced. The river Alakhnanda, named after him, flowing from his place, is one of two streams that merge at Devprayag to become the Ganges. From there Ganga flows through India to bless and purify billions.
______________________________
YIDL The System:
Yoga in Daily Life is practiced globally, and is recognised as a scientific master system. It's eight levels develop the individual systematically through all aspects of Yogic training.
It's for all ages, and all levels of physical condition. There are no restrictions, no expectations, and anyone can practice. The system is used by rehabilitation centres, and specialist doctors to provide care for patients in recovery of major debilitating illness. The Yoga in daily life system is known to help overcome mental stress, depression, anxiety and breathing difficulties. Everyone will benefit from practicing Yoga in Daily Life.
By Sadhvi Shivjyoti, Brisbane.